A fractured pelvis, a broken rib, several painful bruises, cherry eye…and a wagging tail. Meet Ginger, the eternal optimist. 
Ginger's road to recovery began when she arrived at a rural county shelter after being hit by a car. She was labeled a stray but no one came to claim her.
The shelter began searching for a loving foster home where she could heal peacefully.  We reached out knowing one of our dedicated foster homes could provide the care Ginger so desperately needed.
She arrived at Brother Wolf just as wiggly and sweet as could be.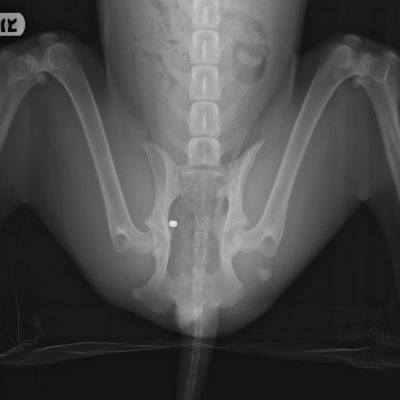 During her exam with our medical team, we discovered that Ginger had been shot, and that there was still a bullet lodged in her body that had likely been there for years.
Despite this and her many other injuries, Ginger's tail wagged excitedly. She completely charmed us all right from the start!
Her caring foster mom invited her into a calm and peaceful house where Ginger's body could heal. Every day she goes for a slow walk in the neighborhood. Ginger is sweet and affectionate, and very high energy! She loves to play, explore and meet new people. She quickly learned the household routines and even waits at the door for her leash to be put on before going out the door. Ginger should be fully healed and ready for adoption by the end of February. 
These incredible transformations are made possible by you, our dedicated supporters. Thank you for caring about animals like Ginger. Because of you, her life is forever changed.