Brother Wolf Mobile Clinic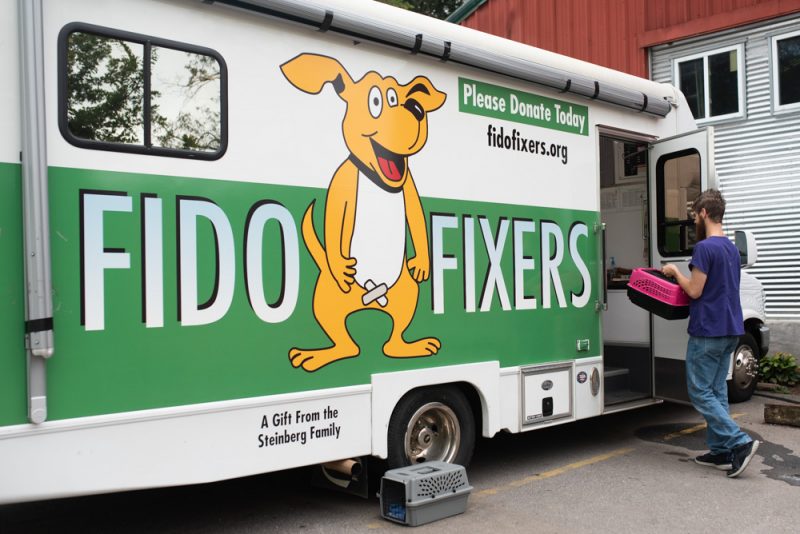 ---
Brother Wolf's Mobile Clinics currently offer low-cost spay/neuter services for dogs and cats in Western NC to the counties listed below. Our clinic also offers low-cost microchipping and disease testing at the time of surgery.
To book an appointment in:
Alexander County
Buncombe County
Madison County
McDowell County
Rutherford County
Transylvania County
To book an appointment in:
Burke County
Catawba County
Haywood County
Jackson County
Pricing List for Mobile Clinic
Effective January 1st 2021, a price increase will be implemented for the following procedures: cat spay (female) $60, dog spay (female) $70, dog neuter (male) $65.
Cat neuter (male) : $50
Cat spay (female) : $55
Dog neuter (male) : $60
Dog spay (female) : $65
Rabies 1-year (required if not up to date) : $10
Rabies 3-year (booster only) : $12
FVRCP vaccine for cats : $15
DAPPVL2 vaccine for dogs : $15
Bordetella (kennel cough) vaccine for dogs : $15
Heartworm test for dogs : $15
FeLV/FIV test for cats : $20
Microchip : $20
Deworming : $10-18
Post-Op Pain Medication – $15*
*recommended for all female animals
To schedule an appointment for your pet see options above, email mobileclinic@bwar.org or call 828-490-1578.
This impactful community resource is made possible thanks to a generous donation from Fido Fixers, a nonprofit organization that works to provide mobile spay/neuter units in low-income target areas. Read more about Fido Fixers here!
Mobile Clinic FAQs
Q: Why should I spay or neuter my animal?
A: Puppies and kittens reach sexual maturity as young as 4 months old. Spaying and neutering your pets early is the best way to prevent unwanted litters. Cats and dogs who become pregnant at a young age are more likely to have complications from pregnancy and give birth to premature or underweight litters.
Q: At what age can I spay or neuter my pet?
A: Our Mobile Clinic will spay and neuter animals as young as three months old. If possible, surgery should be scheduled before your pet reaches sexual maturity at four months old, or as soon as possible for older dogs and cats who have not yet been altered.
Q: My cat or dog is indoor only. Do they need to be fixed?
A: Even indoor only pets should be altered as soon as possible, as spaying and neutering reduces the risk of certain cancers and can prevent behavioral issues like fighting with other animals, escaping, urine spraying in the house, and rowdy behavior.
Q: What information do you need when I schedule an appointment?
A: When you schedule your appointment please include your county, the species and sex of your pet, and any other information about your pet that you would like us to know. We will return your email or call to discuss available appointments in your county. To make an appointment, email mobileclinic@bwar.org or call (828) 490-1578.
Q: How do the appointments work?
A: You will be instructed about drop off and pick up times when you make your appointment. Locations and times vary depending on the county. Typical drop off times are around 8am. Please plan to pick up your pet in the afternoon on the day of surgery.
Q: What can I expect the day of surgery?
A: When you arrive, please leave your pet in the car while you fill out intake paperwork. Please be prepared to pay with cash or credit card at the time of drop off. When you pick your pet up in the afternoon, we will explain post-op care instructions, as well as provide a written copy. All pets will be given pain medication at the time of surgery. We do not provide e-collars, so please pick one up ahead of time if you suspect your pet may need one.
How much does my pet need to weigh to be spayed or neutered?
Our appointments are for pets who are at least three months old and who weigh between 2-80lbs. Please note that due to the size of our mobile clinic, we are not able to accommodate dogs who weigh more than 80lbs
Instructions for the day of surgery
Vaccines
Brother Wolf strongly recommends that your pet be up-to-date on vaccines when they arrive for surgery. We do offer low-cost vaccines the day of surgery for unvaccinated animals. We urge our community members to establish a vaccine schedule with a full-service veterinarian to keep their pets up-to-date. This includes an annual FVRCP vaccine for cats, and distemper and Bordetella vaccines for dogs.
Pre-Surgery Meals
Puppies and kittens may have a small meal (about 1/3 of their regular breakfast) the morning of surgery. Dogs and cats who are six months of age or older should not be given food or water after 10pm the night before surgery.
What to Bring
Please make sure all pets in carriers have a towel in their carrier with them. If you have old towels you would like to donate to the clinic, please bring them with you! Cats should arrive for surgery in a secure, hard-sided carrier. Dogs should arrive with a secure leash and harness/collar, or in a secure, hard-sided carrier. Please also bring proof of current rabies vaccine (this must include your pet's name and the date the vaccine was administered). Animals who are at least 4 months old will receive a rabies vaccine at a $10 charge to their owner if not currently vaccinated.
Check-in
Check-in times vary by location and will be in your confirmation email. Check in is generally between 8am-9am the morning of surgery. Please contact us if you have not received a confirmation email with these instructions. Intake paperwork will be emailed to you, but if you are not able to complete it ahead of time blank forms will be provided for you when you check in. You will pay with cash or card at the time of drop off. Animals should remain in your car until paperwork is complete and payment is made, and all animals should remain secure on leashes or in carriers until they are on board the Mobile Clinic.
During Surgery
All animals are safely anesthetized before surgery, which means they are asleep and free from pain while our veterinarian is operating. Patients are cared for by attentive veterinary assistants before and after surgery and are only placed into a crate or carrier for pick-up once they are awake. Each patient will receive a dose of pain medication during surgery to ease pain and discomfort once they are awake.
Pick-up
Pick-up times vary depending on location, but will be discussed at the time the appointment is made as well as on the day of surgery. Please bring a secure carrier or a leash and harness/collar with you.
Recovery
Owners will be given both verbal and written instructions for post-op care at the time of pick-up, as well as proof of sterilization, proof of any vaccines administered, and a rabies tag and certificate if applicable.
If our veterinarian noticed anything that they feel you should discuss with your full-service veterinarian, they will make note of those concerns on your animal's post-op sheet.
You can expect your pet to be a bit drowsy the first night after surgery. Keep the incision site dry for at least 2 weeks after surgery. Dogs should not be allowed outside except for short bathroom breaks during these 2 weeks. Anesthesia can cause nausea and vomiting in some cases. Keep your pet on their regular diet for a few days after surgery to help them recover. Treats and other "special" food items can be reincorporated into the diet once your pet is feeling normal.
Post-Op Pain Medication
Each patient on the mobile clinic receives a dose of pain medication during surgery to ease pain and discomfort when they wake up. Our veterinarians highly recommend three days of post-op medication for our female patients. Three days of post-op medication is available for purchase for all of our patients for $15, and can be requested on your intake form or at check in.
If you have minor post-surgery concerns, please contact our Program Manager by calling (828) 490-1578 or emailing holly@bwar.org. For emergencies or major health concerns, please contact REACH Veterinary Specialists at (828) 665-4399.