Have you ever noticed a cat living outside in your neighborhood or near your workplace? Unowned, free-roaming cats are called "community cats" and live in closely-knit colonies. Though these cats are unowned, they often have caregivers who provide them with food, water, shelter, and medical care. Community cats are usually not socialized with people and cannot be adopted into a traditional home. Their ideal home, and the place where they are safest, is the outdoor area where they live.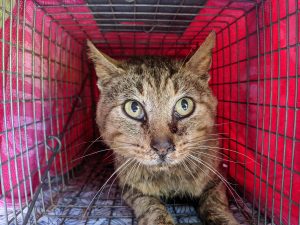 At Brother Wolf, we assist caregivers with trap-neuter-return (TNR) of community cats through our Community Cat Program. Adult cats are humanely trapped, spayed/neutered, given a rabies vaccine, and, after recovering from surgery, returned to their outdoor homes. TNR stabilizes the colony population by preventing the cats from breeding out of control, which can directly contribute to cats and kittens overflowing local animal shelters where they risk being killed. If in the process of TNR we find kittens who are young enough to be socialized, they are placed with foster parents who work to socialize the kittens so they can be adopted into a loving home. Our Community Cat Program is crucial in fulfilling our mission to create and sustain No-Kill communities. 
Eric Phelps, our field operations manager, handles the majority of our TNR work. At the beginning of June, Eric was working on a TNR project in Henderson County when he caught a badly injured, unneutered cat who we named Jalapeño. Jalapeño was fighting a terrible upper respiratory infection and had badly swollen feet. He was suffering from a treatable condition called pododermatitis, swelling caused by a bacterial infection induced by fleas.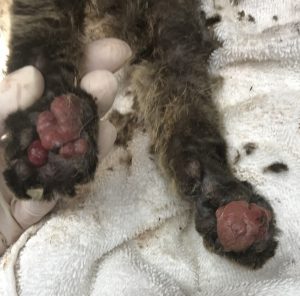 Our vet, Dr. McAndrew, sedated Jalapeño in order to evaluate the severity of his swollen feet. She found that Jalapeño's paws had inflamed tissue on each pad. Due to the advanced state of the infection, it was clear that Jalapeño was in a tremendous amount of pain. Our medical team administered antibiotics, steroids, and pain medications to heal the infection and keep Jalapeño as comfortable as possible. After a few weeks of treatment, we were able to surgically remove the excess tissue from his paw pads.
Jalapeño stayed with us for a total of six weeks in order to fully recover. With lots of rest and supervision, his paw pads gradually healed from surgery. When he was finally able to walk around comfortably, it was time for Jalapeño to head home! Healthy and happy, Jalapeño returned to his colony where he can once again roam free.