Dude Man spent the first seven years of his life at the end of a chain tied to a tree. Can you imagine what it must have been like to sit in that same place in thunderstorms, snow, and summer heat? 
No one took him on a walk, or played catch with him, or let him come inside; not once.
 That would have been his whole life, but thankfully someone decided to speak up.
A kind soul convinced Dude Man's owners to give their dog over to Brother Wolf. And so, after seven years, the chain was removed from his neck. How scared he must have been to leave that space—it's all he'd ever known, but perhaps when he got in the car and drove away he was hopeful. Maybe he knew good things were coming.
Shelters can be a stressful environment for some dogs, but Dude Man, well he thought the Brother Wolf Adoption Center was the best place in the world! Here he had people to love on him multiple times a day. 
Every day he went on walks, people fed him treats, no one ever forgot to give him food or water, and there were soft, clean blankets for him to curl up on. What a difference! He soaked it all in.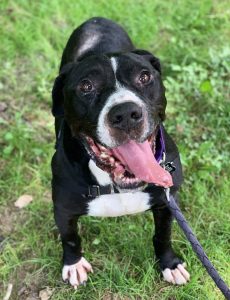 But it quickly became clear that something was wrong with Dude Man; he was very sick. What we first thought was just an upper respiratory infection became severe pneumonia. He was constantly coughing and had to be put on a nebulizer. He didn't get better, so we had X-rays done and discovered what the problem was. Dude Man had lungworms; a condition rarely seen in dogs. He could barely stand when treatment began.
But he is a strong boy and he wasn't about to give up on life when it had just become so dang good all of a sudden! Dude Man made a full recovery in a loving foster home that diligently took care of his every need. While in foster care he learned how to be part of a family and live in a home.
Dude Man quickly got to work exploring his new environment, and although he was never destructive, he sure was curious. He once took every tool out of his foster mom's tool box—very gently smelling the tool, picking up the tool in his mouth, and then moving it from the box onto the floor. When he learned what a squeaky toy is they became his favorite possession. He was thoroughly confused by mirrors and would bark and play bow to the dog staring back at him. His foster mom had to cover all the mirrors in the house for a little while until he got the hang of seeing himself in them!
Dude Man's life is forever changed
. It started with one kind soul who spoke up, and then dozens more along the way who stood up for him: our 
donors
 like you who give us the resources to help animals like Dude Man, our life saving medical team, our foster homes who provide a transitional space for animals to recover and learn, 
and one day his adoptive family who will love him forever.
Because of your support, Dude Man knows the joy of a dog bed, the sound of a treat bag opening, and he's found his favorite spot on the couch. It takes all of us working together to make the world a better place for animals. Please consider making a donation to support the lifesaving work that together we all make possible.